Workforce Solutions
Delivering innovative staffing and recruiting solutions tailored for your specific needs.

Consulting and Health Care Technology
The primary role for our consulting services is to assist our clients in identifying needs, developing an action plan, and facilitating change to enhance the success of your organization. Our programs are designed to improve productivity, efficiency, internal communication, and employee morale.
At HealthCare Talent, our team becomes an extension of your organization, providing expert guidance, proven strategies, and management programs that ensure the highest level of HR efficiencies for your organization.
Consulting engagements include but are not limited to the following areas:
In-depth staffing vendor evaluations

Cost benefit analysis of in-sourcing or outsourcing talent acquisition

Software solutions

Recruiting team efficiency evaluations

Career/position profiling
Through our internal and external alliance partners we offer:
Human Resource Consulting

Benefit and Compensation Analysis

Workforce Planning

Succession Planning

Compensation Analysis

Training and development programs
HealthCare Talent brings together the expertise learned from multiple and diverse implementations with Fortune 5000 companies throughout the U.S.
Recruitment Analytics

Workflow Assessment

Revenue Cycle Management Analysis
Healthcare Technology has exploded over the last few years with innovations in medical devices, software, and changes in how healthcare is administered, both from a care and financial perspective.
A majority of this growth is attributed to various healthcare IT solutions by healthcare providers in order to meet the heightened regulatory requirements for patient care and safety. Many of the innovations are driven by the increasing need to curtail soaring healthcare costs, and the need to improve the quality of healthcare while maintaining the operational efficiency of healthcare organizations. Two key areas that promise to reshape healthcare are:
Interoperability between Health Systems
Interoperability solutions for exchanging patient information across care settings is one technological development that will shape the future of healthcare organizations.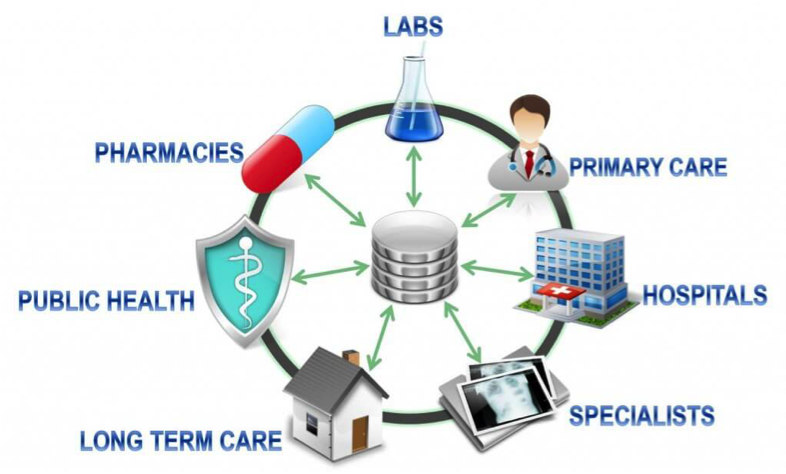 Value-based care and health information exchanges have become a critical component of the overall healthcare landscape, and the ability for all providers – from general practitioners and specialists to post-acute care organizations, etc. – will only grow as a critical component of care delivery in the future.
Electronic records have been shown to save large hospitals anywhere between $37 and $59 million. It streamlines the medical care process and lowers malpractice claims, and increases coordination between providers.
Remote Patient Monitoring
Monitoring programs can collect a wide range of health data from the point of care, such as vital signs, weight, blood pressure, blood sugar, blood oxygen levels, heart rate, and electrocardiograms.
This data is then transmitted to health professionals in facilities such as monitoring centers in primary care settings, hospitals and intensive care units, skilled nursing facilities, and centralized off-site case management programs.  Health professionals monitor these patients remotely and act on the information received as part of the treatment plan.
Monitoring programs are tools to help achieve the "triple aim" of health care, by improving patient outcomes and access to care, and to make health care systems more cost effective.

Managed Services
In general, a Managed Service Program is defined as the outsourcing of the management of a contingent workforce. It has grown to include the co-source or the outsourcing of the talent acquisition function.
Healthcare organizations are under tremendous pressure to redefine their business strategy in order to gain a competitive advantage and to meet the demands of complex and rapidly changing economic conditions.
In an effort to access top talent in a tight labor market, healthcare organizations are turning to a Managed Service Program model as a staffing strategy to better manage temporary employee usage and the acquisition of current and future talent.
HealthCare Talent's MSP programs are built around our client's specific business goals and objectives. It is designed to assist organizations with acquiring talent by adding the flexibility and the scalability necessary to remain competitive during labor shortages.
There are a number of key benefits that can be derived by implementing an MSP with HealthCare Talent:
Cost savings
Greater talent access
Improved employee quality
Risk mitigation
HealthCare Talent's MSP programs measure performance against Service Level Agreements (SLAs), typically consisting of:
Time-to-fill
Fill rate
Rate card compliance
Quality metrics
Hiring manager satisfaction
Typical responsibilities include overall program management, reporting and tracking, supplier selection and management, order distribution, compliance tracking, and consolidated billing.
HealthCare Talent will relieve the staffing burden healthcare organizations face by providing a single point of contact for managing the entire staffing process, including candidate recruiting, selection, interviewing and on-boarding, clarity of workforce costs, streamlined workflow and ultimately faster, higher quality hiring.
HealthCare Talent's clients have realized a:
67% higher rate of cost savings on contingent labor spend
60% higher frequency of temporary workers meeting or exceeding objectives
Staffing industry trends show:
86 percent of best-in-class talent acquisition and contingent labor management programs now utilize an MSP program
HealthCare Talent's Managed Service Program process includes: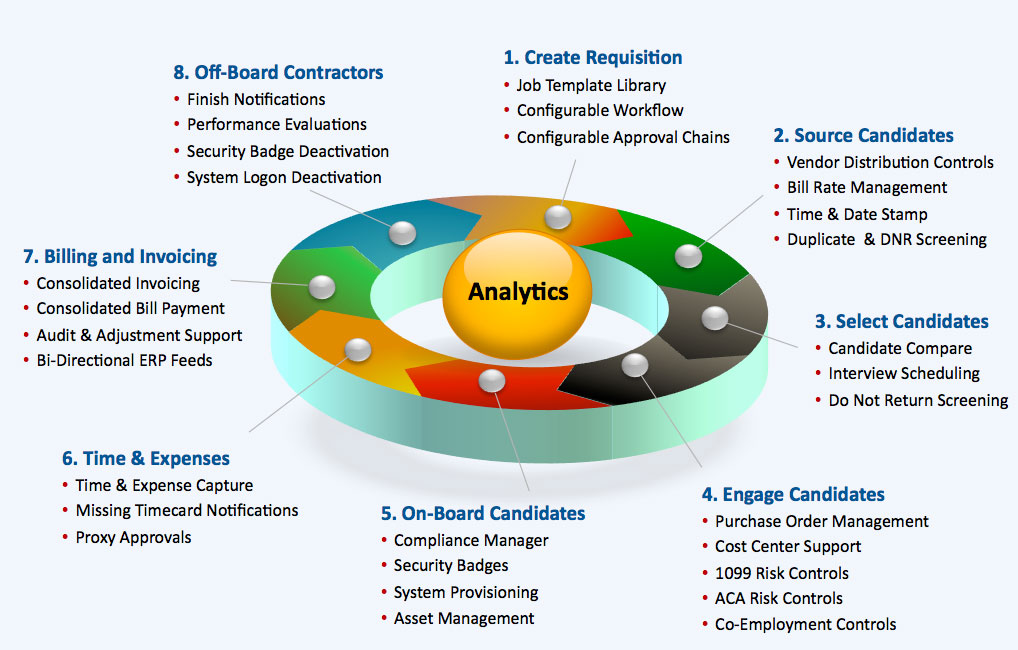 Vendor Management Systems
Many businesses work with a vast array of vendors and partners. However, a large vendor base may result in reduced control over spending, ROIs, contracts, and efficiency. Our Vendor Management Services allow our clients to focus on their core business activities, knowing that their best interests are being looked after in regards to their partners.
At HealthCare Talent, we help preserve your resources by providing a complete procurement solution.
Our vendor management services include:
Recruiting, hiring, and managing your vendors
Scheduling interviews
Payroll and billing
Audits to check rates, compliance issues, insurance status, and financial stability of your vendors
Candidate screening and background checks
Negotiations

Training
In response to the growing need for experienced Case Managers, HealthCare Talent will work with your internal clinical and operation teams to create a customized curriculum to train your current RN and LVN's on how to effectively operate within the organizations guidelines to be effective and compliant. HCT will also guide them through the certification process.
Training programs also available for Claims Processors and Member Service Representatives.
Struggling to find qualified employees in these key areas? Why not, develop them internally with the help of HealthCare Talent.

Quality Initiatives
HealthCare Talent's commitment to quality is uncompromising. We recognize that it is not our own, but our customers' perceptions of quality that is of most importance. We measure the quality of our service delivery by analyzing the quality of the individual we place and the overall quality of the service we provide.
How is the quality of an individual measured?
Needs Analysis
Interviews
Talent Assessment
Behavioral Assessment tools
Candidate Assessments
Skills Testing
Background and reference checks
Video Interviewing Technology
How is the overall quality of our service measured? Quality service involves the identification of Key Performance Indicators (KPIs) specific to our client.
This includes:
Service Level Agreements (SLAs)
On-going Quality Control Checks
Monthly and quarterly Reporting
Semi-Annual Surveys of hiring managers
Annual Performance Reviews
We can't manage, what we can't measure

Compliance
At HealthCare Talent, our commitment is to support our clients and the patients they serve to provide quality care. We fulfill that commitment by strictly adhering to ethical business practices, all applicable clinical, regulatory, and legal standards, policies and procedures, and a strict Code of Conduct.
Our on-going commitment is to strengthen our compliance resources, education, and infrastructure. Our methodology includes continuous auditing and monitoring of programs and examining opportunities to ensure positive outcomes when issues do occur. We believe in full transparency as it is critical for our credibility.
All our employees, at all levels and disciplines, participate in on-going compliance training programs. Like any company-wide compliance initiative, it is a continuous improvement process. It involves assessing risks, developing controls, monitoring performance, and implementing corrective actions and process enhancements. This is a crucial element to maintaining the high quality of service we provide to our clients.

Software Solutions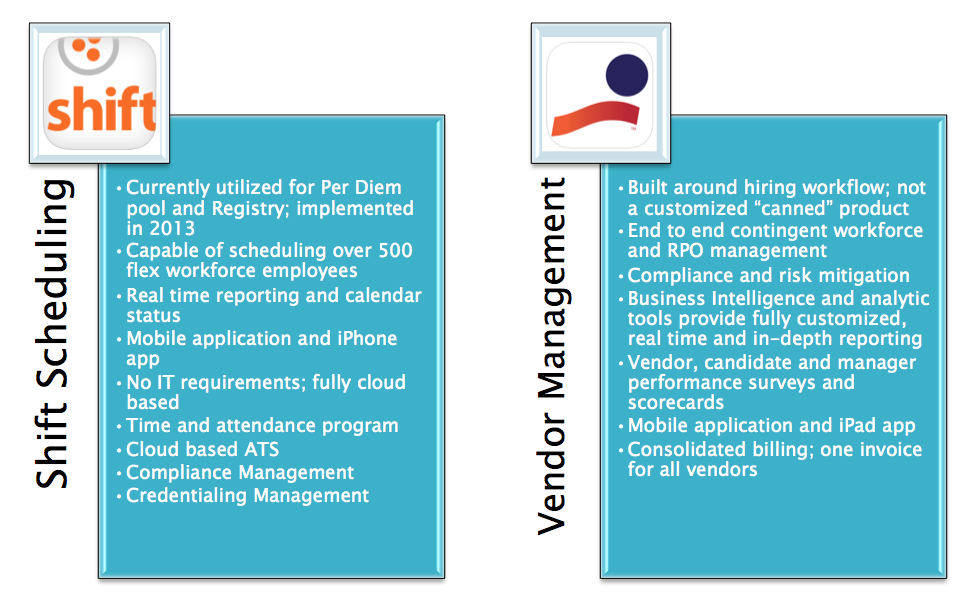 Value-Add Services
Our primary goal at HealthCare Talent is to maximize our value to our clients. From talent solutions to HR consulting, we have tailored services for all of your workforce needs. Additionally, we offer value-add solutions to complement our standard services.
At HealthCare Talent, we want to enhance your order-to-placement ratio.
Additional services offered by our team include:
Applicant Tracking Systems
Background investigations-criminal and educational
Skill and Personality Testing and Screening
Research and Sourcing Services
Scheduling software
As a complement to our service solutions, HealthCare Talent has the recruiting horsepower needed to fill a wide variety of career profiles for the medical field.